Masterchef Club
Children in years 5 and 6 have had the opportunity to go to Masterchef Club with Miss Law and Mrs Clark. They have baked and made all sorts of edible bits and bobs - including bread, peppermint creams (with a 'twist'), pistachio fudge, gingerbread tree decoration, cous cous, coconut ice....the list goes on!
Masterchef club is always good fun!!
Below is a selection of pictures taken during the various Masterchef cooking sessions
Minecraft Club
Minecraft can have huge educational benefits for children; it can help teach numerous subjects both with and without adult involvement. Learning in Minecraft can be faster than traditional methods of education, as children are often far more motivated, get more practice, and feel that what they are learning is useful.
While the Minecraft world is only made up of cubes, the creations a child makes may resemble other shapes. Parental involvement can help teach children to recognize these shapes (cube, cuboid, square based pyramid, tesseract, et cetera). Structures made with blocks to resemble shapes and figures can also help children with dimensions - x, length, y, height, z, width, and possibly also w, time. Also, counting the number of blocks that were dug out when making a 6x6x3 cave can help multiplication skills and understanding the concepts of volume and area. Also, Minecraft is all about three-dimensional graphing. A Minecraft world is based on x, y, and z coordinates, and uses both taxicab geometry (e.g. for lighting) and Euclidean geometry (for determining where monsters spawn and despawn). This very useful method of gaming can be used to learn high-leveled math such as the Pythagorean theorem (e.g.: x2+y2=c2) therefore not only is Minecraft used to learn "child-level geometry", it can also be used to learn fairly difficult geometric concepts very easily.
By setting up a private server, We have provided a safe environment for children to interact with friends and make playing Minecraft a cooperative event. Using ONLY our school Network it will allow children to play in the same room with their friends.
We can also set up various minigames for your child to play on or just a default minecraft world. These methods allows children to work together to build, explore, and learn as they develop their social skills, especially teamwork. For older children, contributing to an in house Minecraft Wiki can be a chance to learn about Internet etiquette and collaboration.
Gardening Club
As part of the gardening enrichment club the children have enjoyed re-planting tubs, sowing cabbages, peas, and planting a Eucalyptus tree, which was kindly donated by one of the children, and also digging out a few weeds. However as you can see they really enjoyed harvesting our massive pumpkin,it was very heavy! The children then received their certificates for all their hard work, well done everyone and hopefully we can do it all again next spring.
Click an image to see larger view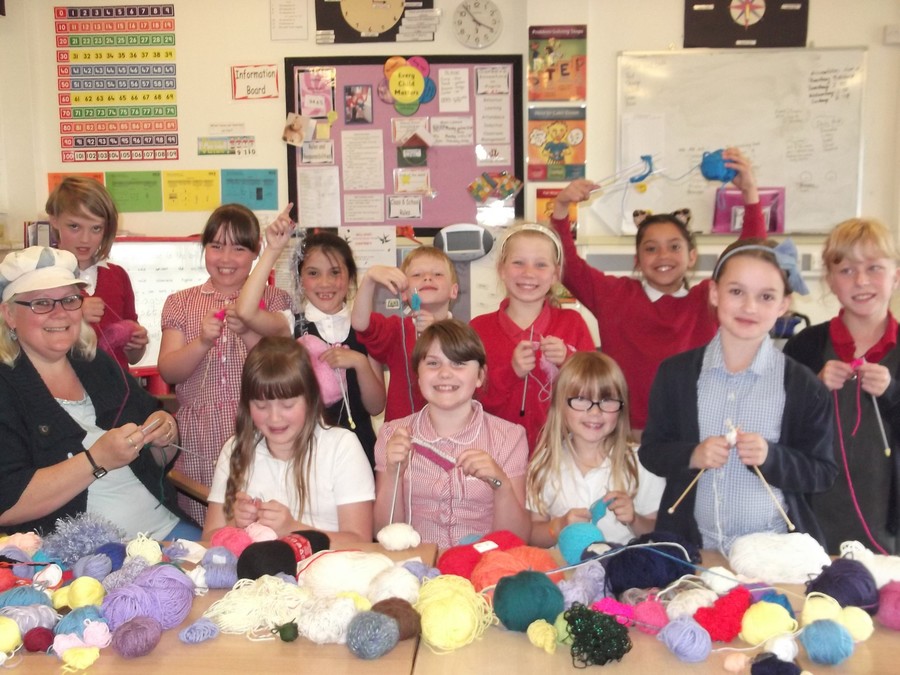 Want to learn a new skill and have a natter? Well this is the club for you.
We have made lots of things this year such as a french knitted snails, Christmas candy canes and Easter chicks.
This term we started multi-coloured head-bands and pencil cases.
Tickling the Ivories - Keyboard Club
Every Tuesday a handful of students from key stage 2 attend keyboard club.
This is where they can learn different skills on the keyboard. Miss Nicoll and Miss Dignum supervise the children whilst they enjoy playing the piano. The pianists can bring in their own music from home or select pieces school has. Children have the chance to perform in school concerts and events.
Overall the children really enjoy the club
(written by Megan, Katelyn and Alice)
Click image for larger view